When we hang around in our homes, we seldom take the time to look up, but it's actually something we should be doing on a regular basis. Damage to the ceiling can end up being a costly repair, but if we spot the signs of problems early on, we can save a bunch of time and money. The most common problems that tend to strike ceilings are cracks that develop over time or water damage that may actually be a sign of something a little more serious up on the roof.
If its water damage, then it might be a good idea to check the roof first as there is little point in making extensive ceiling repairs when the same problem is likely to crop up at a later date.
Catching any sort of damage early on may mean that a little patchwork will be all that's required, but left untouched those little cracks and stains could lead to a total collapse that could leave you staring up at the underside of your bed. Patching up a small area of your drywall ceiling may be something that the average homeowner can do.
Drywall Ceiling Repair Steps
Keep in mind, before doing a drywall ceiling repair, make sure that the problem that caused the damage is fixed.
1. Start by taking a unity knife and cutting a square shape around the damaged area.
2. Remove any bad drywall; ensuring that your edges are not broken behind the paper.
3. If you can't attach the new drywall piece to an existing joint, make sure you add wooden supports along two sides of the hole. You don't want it coming down on your head.
4. Take a sheet of drywall and cut it to fix.
5. Secure the drywall using simple drywall screws driven into your wood supports or existing joint.
6. Apply a thin coat of drywall compound to allow for your tape to hold in place.
7. Run drywall tape along the seams of your replacement sheet.
8. Apply a last coat of drywall mudding; filling in all holes and seams.
9. Allow for a day to dry, then wet sanding to smooth.
10. Finally, go back with a paint primer for complete seal.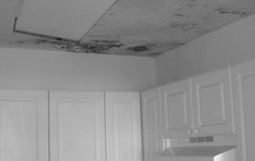 I'll be the first to confess that I made that sound a little simple little job that won't take more than a few moments of your time, but when you consider that you will most likely be working a dozen feet off the ground, it's really not all that easy after all.
Any home job that has a long list of professional people listed in the Yellow Pages is usually a sure sign than you should probably defer to them no matter how easy the task may seem in principle.
That is especially true for jobs that or a grander scale, such as when your entire drywall ceiling makes its way down to your rug, or when it is cracked an damaged over a large area of the ceiling. In those types of situations it's highly unlikely that you will have the tools, such as drywall saws, hand sanders, drywall compound and screws to name but a few, nor will you have the necessary to expertly complete the job quickly and tidily. There many steps that go into repairing a drywall ceiling, and if you should happen to botch just one, then you may be looking at some very costly repairs in the not too distant future.