There are literally thousands of tips to help insomniacs get to sleep at night, but very few of those mention simply staring at your ceiling. Let's face it, the average homes drywall ceiling textures are so bland that it is likely to turn you into a slack-jawed, snoring fool in no time at all.
That may be fine for the bedroom, but is that the look that you want to have all through your home? Probably not, so rather than settling on boring, you should really look at adding some cool effects to your ceiling so that they have a little wow. There are almost as many ceiling texture techniques as there are insomnia cures, but rather than listing them all, here are a few that are among the most popular.
Swirl Ceiling Texture
It may sound like a delicious ice cream treat, but the swirl technique can look equally tasty on your ceiling. The finished look has almost a 3D type look, with scallop shaped swirls cascading across your ceiling in waves.
The keys to this technique is to apply a very thin coat of mud with a heavy-nap roller and then finished off with a bristle brush.
Popcorn Ceiling Texture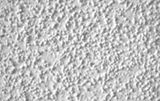 Yet another tasty treat for the ceiling which, although can be cool looking, is considered by many to be more than just a little outdated nowadays.
If you aren't really concerned about what's trending in the interior décor world, then it may be worth taking a look at. Keep in mind though that special equipment is required to achieve the look, but a visit to your local hardware store may end with your finding popcorn-ceiling in a can. The aerosol spray on style may be your easiest option.
Raised Stencils Ceiling Texture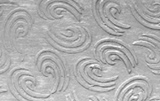 Unless you are some kind of artistic genius, the chances of you being able to add some sort of pattern to your ceiling are slim to none. There is an easy way around that though and all it requires is a stencil taped to the ceiling which is then mudded and left to dry. Once the mud sets, all you have to do is remove the stencil and voila, you have the pattern of your choice on your ceiling in a 3D type effect.
This is a very cool idea if you have a flowered theme, or some other pattern, featuring prominently in your home.
Knockdown Ceiling Texture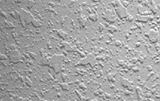 Many ceiling techniques are definitely of the variety that are best left to the pros, but this is one that can pretty much be done by anyone, regardless of DIY skill.
All that is required is spraying the ceiling with acoustical drywall to create a series of little clumps which are then knocked down with a wide-joint knife. You'll have a great knockdown texture effect in no time.
There are the most popular drywall ceiling textures, and with a little research and patience, you can learn how to texture a ceiling in no time.