If you live in a home where the walls are damaged or just look tired after years of wear and tear, then it might be time to knock them down and start fresh. If you choose to do that, then you might want to look at getting a little creative with your new walls.
That usually means adding some kind of cool effect, and for a re-model there may be none more appropriate than the knockdown look.
It's usually best to leave this sort of work to the pros, but if you are adventurous, then here are the steps that you have to follow to achieve the knockdown texture.
How to Get the Knockdown Drywall Texture Look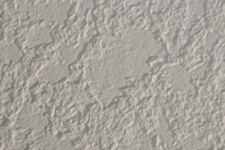 1. The obvious first step is to hang and finish your drywall. You should really take the time to make sure that everything is level before attempting to perform any sort of texture. Any odd spot can really affect the finish and make the job look amateurish.
2. The next step is to prepare a dry mix or compound for application to the drywall. Please note that if you opt to go for a compound over a dry mix, you are going to have to add water until you get it to a consistency that can be used in a sprayer.
3. It's now time to spray the mix onto the wall, for which you will need a sprayer and compressor. If you don't have those you can rent them from your local hardware store relatively cheaply. Try to use a 3/8 inch opening on the sprayer and set the compressor to 60 psi.
4. Before you go nuts spraying the wall, you might want to test all of your settings by using a piece of plywood or leftover drywall. Only once you have the exact mix that you want. If it's wrong it could make the job more difficult and even clog the sprayer. It well worth a few extra minutes of work to make sure that everything is just so.
5. Once the mud has been applied it's time to create your knockdown effect. This is accomplished by using a drywall knife to skim the surface. Hold the knife at a very low angle and keep it consistent across the entire area of the wall.
It will take a little trial or error, but in no time you can get that perfect look! Those are the 5 simple steps need to create a knockdown texture effect, and if you do it properly you'll be left with a great look that you won't want to knock down any time soon.
Looking for other drywall texture options? You can read our article on popular drywall textures and even drywall ceiling textures. You'll find one for any type of home!